If you look twice, you might think that this lady in the kitchen of the
Quatsch Comedy Club
is actually wearing an evening gown, or is it just my imagination ?
Beim zweiten Hinsehen könnte man meinen, daß diese Dame in der Küche des Quatsch Comedy Club tatsächlich ein Abendkleid trägt, oder bilde nur ich mir das ein ?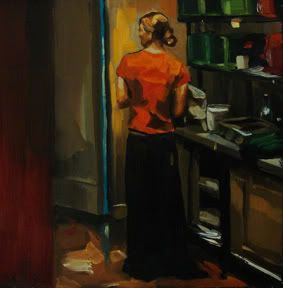 5,9 x 5,9 inch / Oil on Board / 15cm x 15cm / Öl auf Holz
Sold/Verkauft
A big thank you to
Diana Moses Botkin
a fellow painter and a writer for mentioning me in her article on Daily Painters in the February issue of "Art Calendar".
Ein großes Dankeschön an Diana Moses Botkin, eine Malerkollegin und Journalistin, dafür, daß sie mich in ihrem Artikel über Daily Painter in der Februar Ausgabe des "Art Calendar" erwähnt.