A lady dressed in red, another dressed in blue, a huge Chinese lampion in a golden lit shoe shop, you probably wonder that something like this caught my attention.
Yesterday I had received the honour to be featured on:
Trust Your Style
by Mary Jo Matsumoto, maybe you like to read it, thank you !!!
Eine Dame in Rot, eine andere in Blau, ein riesiger chinesischer Lampion in einem golden beleuchtenden Schuhgeschäft, na da wundern Sie sich jetzt aber daß mir ein Motiv wie dieses ins Auge stach, oder?

Gestern wurde ich auf dem blog Trust Your Style by Mary Jo Matsumoto gefeatured, welch eine Ehre für mich, vielleicht mögen Sie es ja lesen, danke !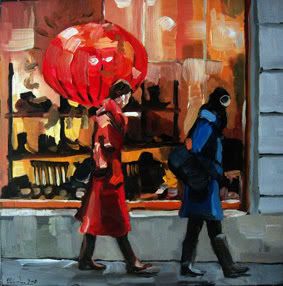 5,9 x 5,9 inch / Oil on Board / 15cm x 15cm / Öl auf Holz
Sold / Verkauft