The drama takes its course.... the lights of the car, the rain - and the smoke diffuses the vision and yet makes it clear, something very disturbing must have happened to Magdalena (played by
Paula Redlefsen
) in the film Twilight.
Das Drama nimmt seinen Lauf... die Lichter des Wagens, der Regen, der Rauch vernebeln den Blick, und trotzdem ist es klar: es muss Magdalena (gespielt von Paula Redlefsen) etwas sehr Unheimliches passiert sein, im Film Twilight.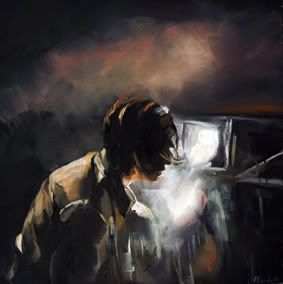 5,9 x 5,9 inch / Oil on Board / 15cm x 15cm / Öl auf Holz
if you would like to have this blog painting please click
here
to bid.